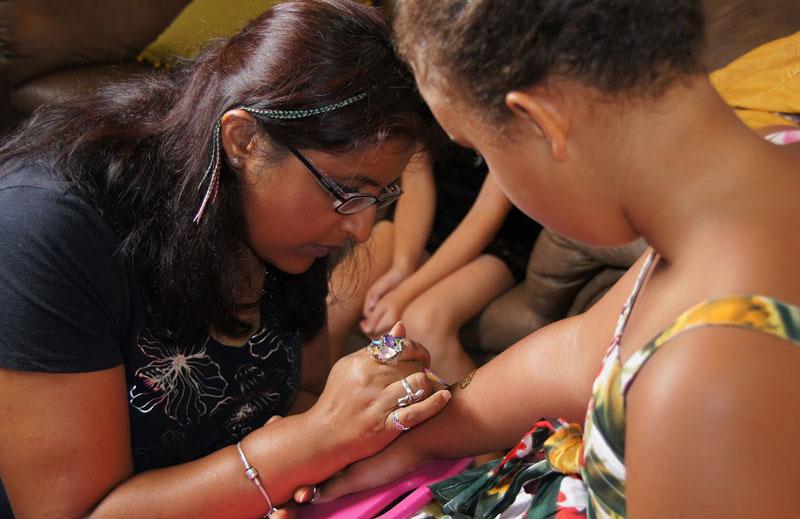 For over 20 years Henna4You has provided the elegant artistry of henna temporary tattooing to wedding parties, showers, birthday parties, corporate events, and attendees of conventions, festivals, and community events including those thrown by City of Toronto, Fan Expo & Comicon, City of Waterloo, Toronto Argonauts, Gillette and the World Economic Forum in Davos, Switzerland.
Bhupi, Artist and Owner of Henna4You, learned the Art of Henna while backpacking through a tiny village in Rajasthan, India. Her work has graced the skin of over 300 brides and their wedding parties, and thousands of event guests. Born to Indian parents in East Africa, Bhupi was raised in London, England, and settled in Cambridge, Ontario, in 2003 with her family.
She has served clients in the GTA, Cambridge, Kitchener-Waterloo/Tricities, Niagara Region, Ottawa, USA, Europe as well as destination weddings in the Carribean and Mexico with her henna talents. Bhupi draws upon the cultural teachings of her family, her upbringing in Africa and England, and her later worldwide travels for inspiration when she creates original designs and adapts pop culture symbols to her henna work.
Henna4You prides itself on using only 100% naturally grown, certified organic henna without any preservatives, additives or chemicals. The paste made 24 hours prior to an event, includes; henna powder, tea tree oil, lemon juice and cane sugar.
Our artists are professionals who use their skills to quickly and personably provide henna art to everyone interested and make sure that guests are not kept waiting as our line is often continuous. We provide a wide variety of samples for guests to be inspired by, from Bollywood glamour to Trekkie allegiance. All of our guests are attended to with respect – all questions are answered thoroughly and thoughtfully – and receive aftercare instructions to get the most out of their henna experience.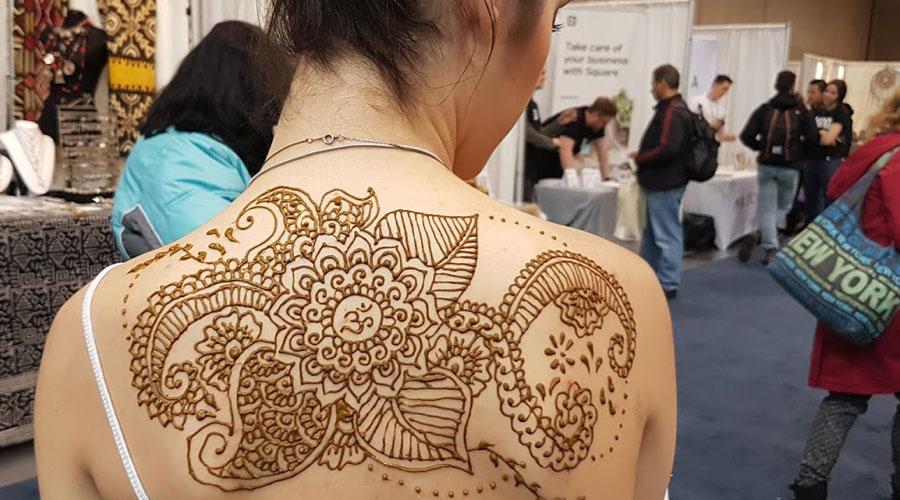 Meet Bhupi
Bhupi is an incredibly talented mehndi artist. She combines a rare blend of old school tradition with modern trend-setting design. Bhupi's art seems to capture the spirit of the person she is decorating and the work almost becomes an extension of that person's natural being. The mehndi design looks like it was "made" for that person. Bhupi was born in Africa and has lived in England, India and now Canada. We feel that this has given her a unique perspective on the world and its cultures. She is able to translate that into her art. You can feel the "world" influence in her designs. Bhupi was featured on the BBC's Heaven and Earth Show and she was given the opportunity to showcase her designs on a national television broadcast. Her art is influenced by her interest in the latest trends in fashion and Bollywood cinema. She also studies the old traditional techniques and designs so she appreciates the roots of the tradition and the need to remain true to the ancient philosophies.
Our staff are fully trained in;
First Aid
AODA (Accessibility for Ontarians with Disabilities Act) Training
Fully insured as a pre-requisite of working with children and the vulnerable sector