Habits, rituals, routines, whatever you call your repetitively scheduled events you get a sense of serenity when they go as planned. Even if you hate waking up every morning at your usual 6 a.m. you fear the resulting chaos of sleeping through your alarm more. A healthy routine supports your personal and professional needs while leaving room for spontaneity. In 2017 the Nobel Prize in Physiology or Medicine was awarded to 2 scientists for proving just how powerful our internal clock is to our daily schedule. How can you tell when you've got things down to an art and when you should let your hair down? It all depends on how you feel in relation to your personal goals and your health.
One of the most important – and overlooked – routines to adopt for success is sleep. You've heard for years that the best routine begins and ends by waking up and going to bed at the same time every day, through the work week as well as weekends, holidays, and vacation. While you sleep your body gets to file memories and regulate hormones. Quality sleep may help you with food cravings, balance moods, and handle stress. Get yourself on that schedule! Create bedtime and wake up routines that make both activities something to look forward to. Use music, reading, meditation, and mantras. We won't begrudge your morning coffee!
When you look at your schedule for the week on Sunday night, identify the parts that make you feel stress and proactively adjust your schedule to make things go smoothly. Schedule efficiencies like meal prep, mailing birthday cards, even picking outfits for the week. Don't forget garbage day!
What's the first thing you do when you get to work? And how do you ensure you get out the door on time? Just like wake up and bedtime routines, set yourself up for success and manageable stress with similar routines at work. Get to work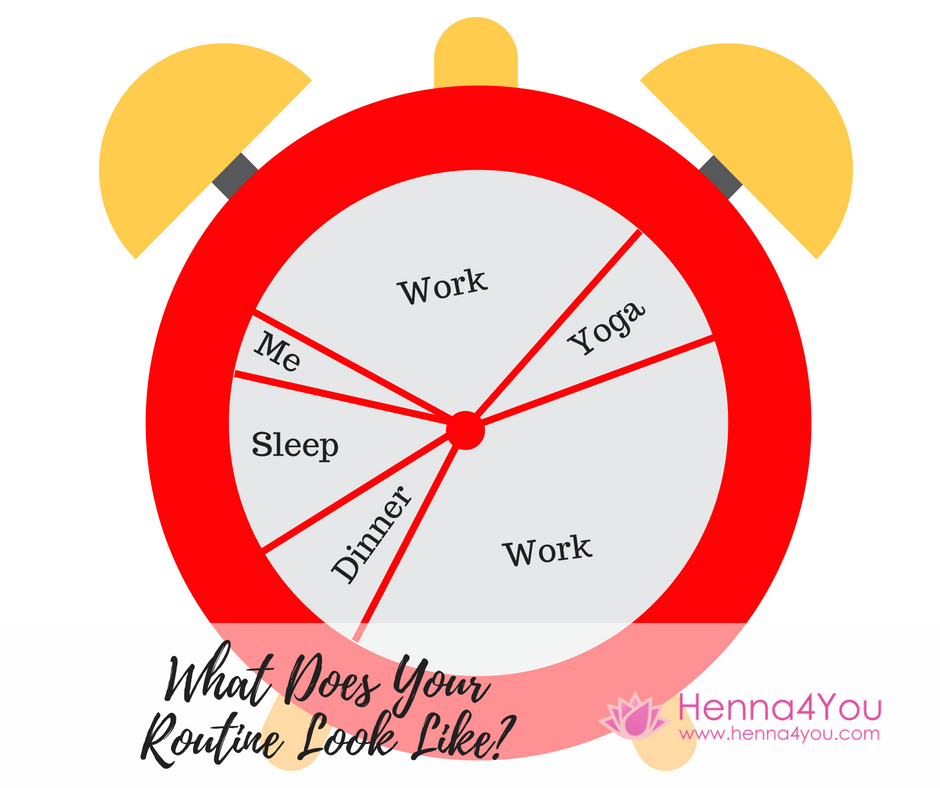 a few minutes early to ensure you have time to stop or make your morning coffee. Choose the time or times of day you'll respond to email and phone calls so that you don't use up your whole day on communication. Leave the last 15 minutes of your day open to tie up loose ends and make plans for tomorrow. Most importantly, eat lunch away from your desk, preferably in a social situation, and try to fit in a short walk.
By now you're getting excited about planning and setting up routines, but we do caution you not to schedule every minute of the day. Be flexible so that when changes pop up you can roll with them enduring minimal stress. And spontaneity can be so freeing! Your ultimate routine creates a sense of balance. If you feel like you're barely hanging on or you don't have time to take care of you, you've got to make some adjustments.
Add self-care to your routine with regular henna applications! It's a fun, fast, and affordable way to treat yourself and let your unique personality show. Book a private appointment or start up a regular Henna party night a few times a year with friends or family – the ideal addition to Ladies Night! Contact us online here to book your appointment.