Six months in advance you start to browse Pinterest. By 2 months before you're sweating. The week leading up to the big date you can't eat, can't sleep. We're not talking about your wedding, or even the arrival of a new baby.
We're talking about your kid's birthday party!
You have at least one moment of panic every year at the thought of making sure your child has a wonderful birthday, and we're here to help.
You may not know this, but Henna4You has a lot of experience with birthday parties for all ages, boys and girls, youths, teens, and beyond. Here are some of our best suggestions to throwing a great birthday party without any sweat.
Set a Budget and Stick With It:
It's easy to get caught up in birthday party excitement, especially once our children reach school age. Suddenly you've got invitations lining up to go everywhere for birthday parties for your kid's friends. And it's wonderful! But you don't have to do that. Honestly, just because it's your turn doesn't mean you have to take the kids, well, anywhere. You can have a ton of fun at home. Just plan for it!
Pick a Theme and Go All Out:
Staying in for the day is really fun with a themed party. Pick superheroes, princesses, the jungle, games, even just a colour, and then look online for fun decorations you can buy or make and games and activities you can alter to reflect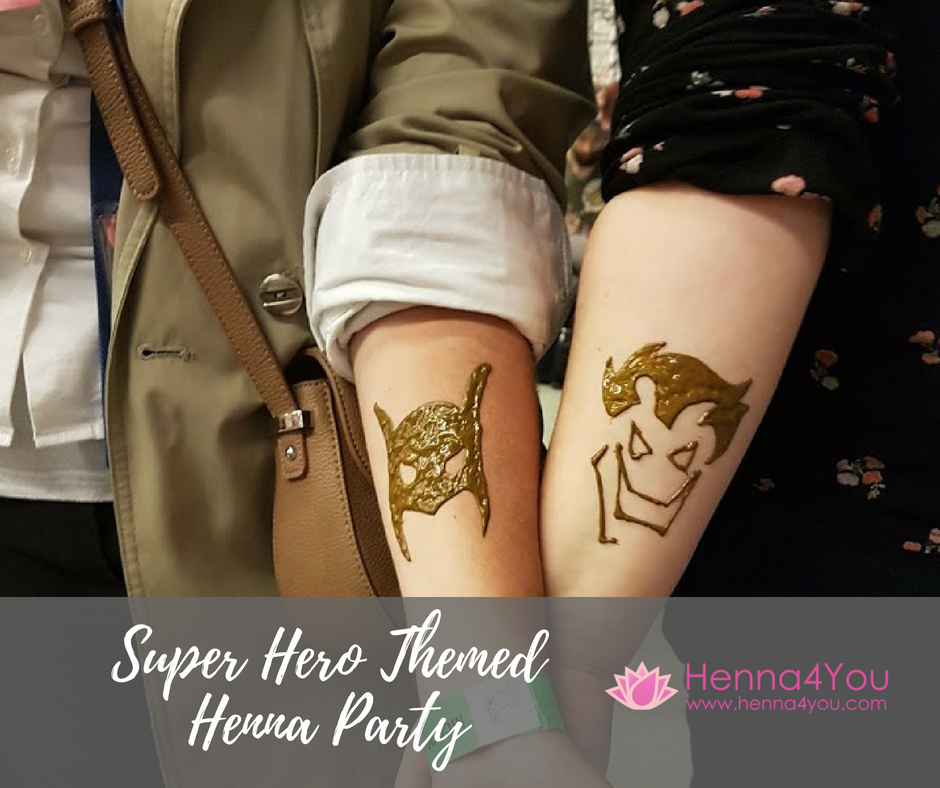 your theme. Play princess tag where everyone has to wear a crown if they get tagged, make superhero masks as a group craft, set up a LEGO station, print off colouring pages. The internet knows all!
Talk to the Birthday Boy or Girl:
Joker BatmanFind out what their favourite games are. Ask them what they loved about birthday parties before. Maybe a movie with a picnic on the floor? Maybe a water fight? Get them involved – but don't make promises. Add their thoughts to your brainstorm and let it all simmer while you ask around and surf the web and put ideas together. Doing this will help you stay on budget and not stress out! And your kids get to be surprised on the big day, too.
Hire a special guest to come to you:
I'm sure you won't be surprised to hear us suggest you hire Henna4You for your birthday parties. We're versatile and suitable for all ages and themes! Set up temporary body art for your superheroes, your animal lovers, your princesses, your jewelry party…just time it so that we arrive after swimming is over at your pool party! Available for at-home and other-location birthday parties!
Contact us with the theme of your party and we can supply you with a sample of designs that suit your party. Show the birthday boy or girl and get really excited! We can also do custom designs so fear not if you think your theme isn't available in our look book. We can do it all!
Contact us for a booking or call 519-741-7007 to get more information.