We are all unique and own our style whether it's the way we dress, do our hair or makeup. We all want to be noticed in some way or other and henna is a great way to stand out. Pinterest is a wonderful tool, giving us inspiration for fashionable and creative ways to showcase our individual style. It's full of beautiful photographs of intricate body art created with natural, black and, white henna paste.
"Do you have black henna? How about white?" No, we don't, and for good reason.
Let's talk about natural henna. Henna4You's paste is mixed with organic and natural ingredients. We have nothing to hide. It's just organic henna powder (the dried and crushed leaves of the henna plant), lemon juice, organic tea tree oil, and cane sugar. Vegan and gluten-free! Natural henna starts off as a light orange stain and takes 48 hours to develop into a rich red/brown colour. The paste smells earthy and contains zero artificial chemicals. (See the colour transformation of natural henna)
White Henna Kids Finger PaintNow let's talk about synthetic "henna" paste. There is no such thing as black or white henna. Both are made up of synthetic chemicals and can prove to be terrible for your health.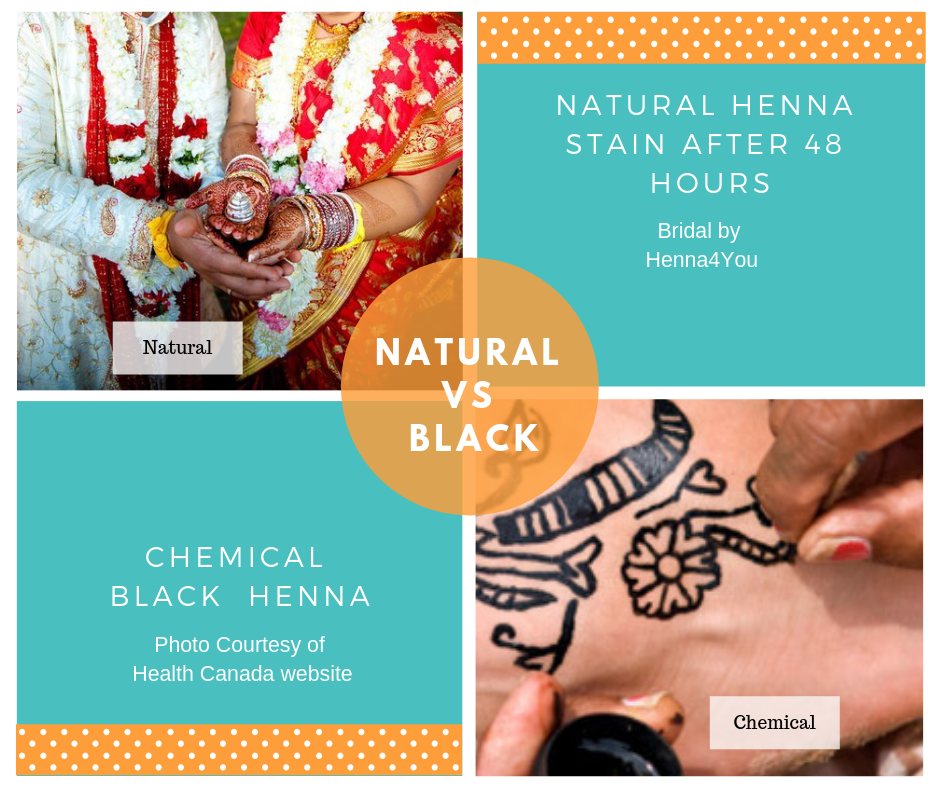 Read our White Henna post for more details on the harmful ingredients. In the 22 years, I have been painting the art of henna, I have met people as young as 4 years old all the way up to adults who have permanent scarring from having black henna applied at tourist resorts and tropical destinations.
To put the effects of black henna in perspective, consider that everyone waits until the last day of their vacation to get henna done so that they can show it off to their family and friends. The scarring happens so quickly that by the time they are on the plane and heading home, it's too late to do anything about it. Their first stop off the plane is usually the ER or After Care Clinic, which makes me so sad. These scars will remain for the rest of their lives – that's not the way you want to remember your lovely holiday.
Why don't these artists use natural henna? It's simple – people want their temporary tattoo to look like a real one and natural henna paste made from the henna plant won't do that.
And please don't purchase any henna cones from a store, real or not. Makeup doesn't necessarily have an expiry date but most fashion magazines and online blogs such as Best Health Magazine suggest that most should be tossed within 3-12 months. Henna's shelf life is only 10 days and the cones in the grocery store have no manufacturing or sell-by dates. If when you cut the cone open you can smell synthetic chemicals, throw it out. For more details on store-bought henna paste, read our post here.
The table below summarizes the difference between natural and chemical based henna: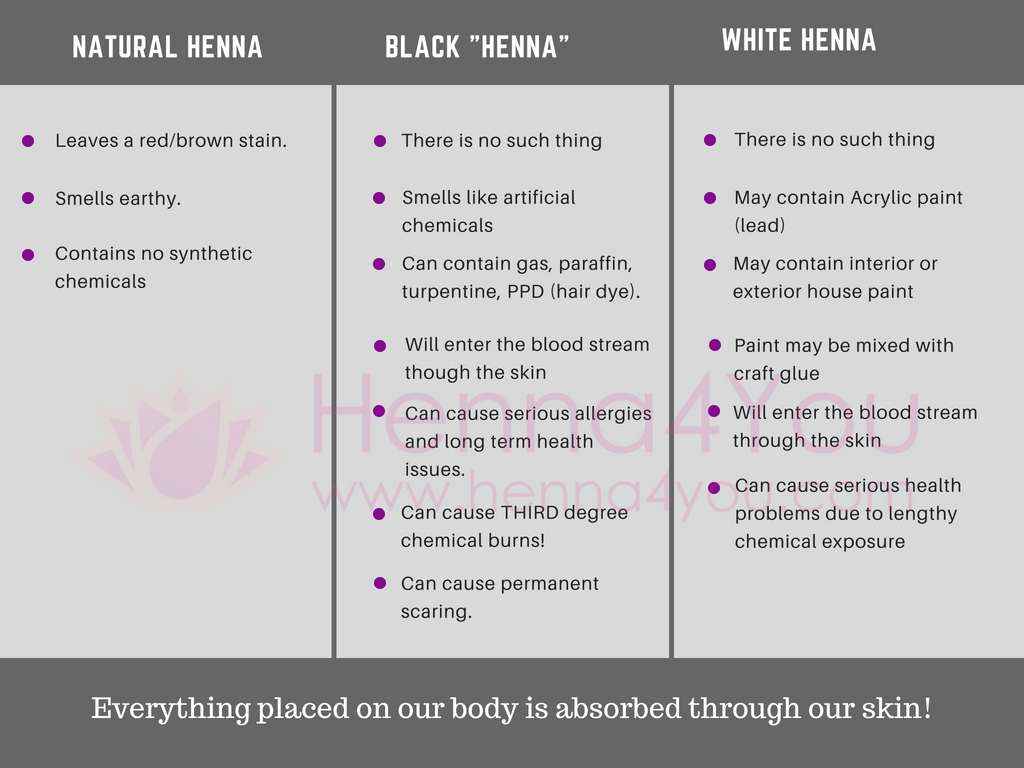 Our skin is our largest organ and everything is absorbed through it and into our body. Ingredients in acrylic paints are banned for use in food, drug or cosmetics making them completely UNSAFE to use as body paint.
If you are ever in doubt, please don't do it. It's not worth the $5 you spend for permanent scarring for life.
Talk to us about purchasing natural henna cones with NO preservatives or additives.