Vacation season is here in Canada and we, like you, couldn't be more excited! For Henna4You it means festival season and we're having a blast all over southern Ontario meeting new faces and delighting festival goers with traditional, custom, and fandom temporary tattoos. When you see us, why not ask for a design to compliment your bathing suit?
Every year you search for the perfect beachy accessories to kick back in the sand and surf in style. Sunglasses? Check! Super cute floppy hat? Check! Comfy sandals? Check! Now, for your henna design. Go wild! Henna looks fabulous on feet, wrapped up the leg, on the hip, down shoulders, unfurling around your arm, anywhere! One size fits all and looks fabulous!
We've got some great tips below to help you get the most out of your temporary tattoo.
Leave the henna crust on for as long as possible. Sleep with it on if you can. The trick is to avoid getting it wet so don't wrap your skin in plastic because you'll sweat and that will cause the dye to run and ruin the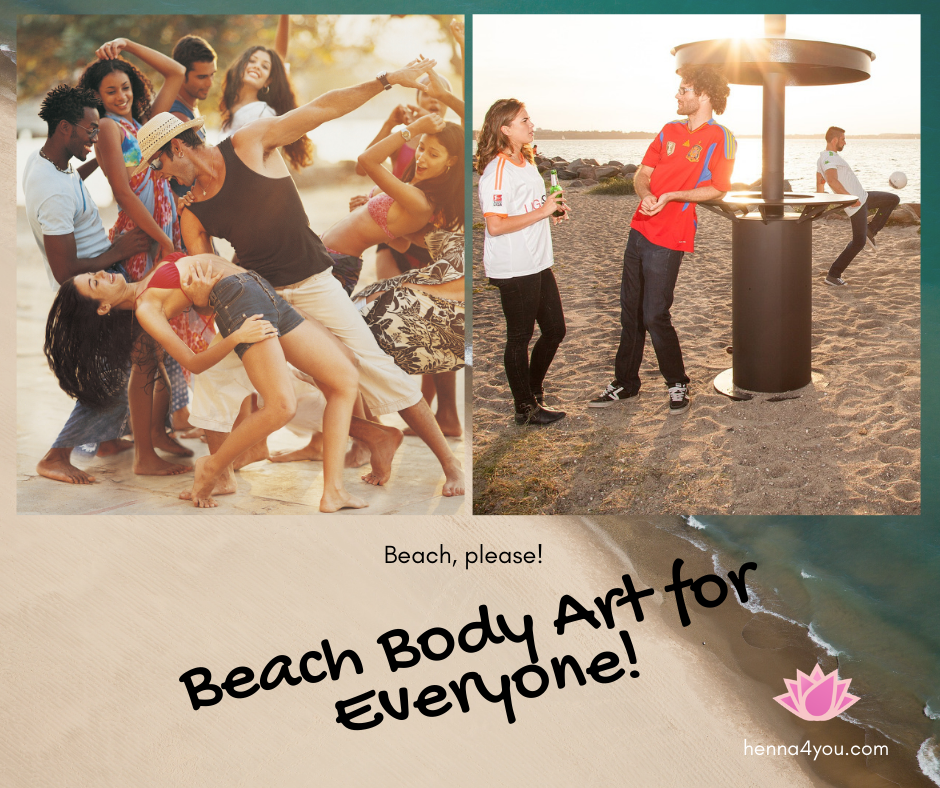 design. Cover up with cotton socks or old clothes. Oh no, a reason to stay at home and hang out in your sweats for a day? Yeah, we feel bad for you, too. When you remove the paste use cooking oil, again not water, and rub gently. Here's our detailed henna aftercare page.
Sit in the shade and when that's not available use mineral sunscreen, natural whenever possible. You may have heard that henna dye on your skin will protect it from sun damage, and while that may be true it's not an effective sunscreen and it won't do anything for the skin around the design!
As always, avoid henna that is not natural. No white or black henna or any other colour and no glitter because these often contain chemicals that can severely damage your skin.
Moisturize your henna tattoo with creams and oils containing natural ingredients only – even a dab of pure shea butter – and when you're in the bath or shower avoid cleansing the area with an abrasive like a loofah or exfoliating body wash.
Understand the limits of your temporary tattoo; you'll probably get to enjoy it for a week or so. It's going to fade naturally, and the more you enjoy summer fun, the more it's going to fade. Water will pull the colour, especially chlorinated water, even sweat. Summer is too short to lay low so just enjoy your tattoo while it lasts. It still looks wonderful as it fades. You can always get another one in a couple of weeks. By then you'll have already dreamed up a new design to showcase your sense of fun and individuality anyway.
Throwing a beach party this summer? Invite Henna4You! Corporate, private, anniversary, family reunion, birthday party, wedding or baby shower, even your wedding, offer your guests a truly fun and beautiful keepsake. Contact us by calling 519-741-7007 for more information or to book your party.