I thought I would talk a little bit about what it's like to be a business owner from a woman's perspective because, I'm really glad to say, that I meet more and more women who have entered entrepreneurship all the time. And it's wonderful and terrifying and exhilarating and confusing and so completely satisfying! I really feel like we need to talk about these things more so that we can come to this conclusion: we're normal! The primary reason I started this blog was to keep in contact with my clients, and I love that I have the platform to connect with you and have many conversations on self-care, creativity, and living our best lives.
When I got started with Henna4You back in England 20 years ago, I was also working in real estate full time, and I wasn't a mother or wife yet. I had a lot of freedom to use my time as I wanted, and I felt totally ready to add to my plate. Within a couple of years I was out of real estate, in high demand for henna artistry, a wife, a mother of 2 young sons, and moving to Canada.
Whoa, right? Those early years were really a great preparation for motherhood let me tell you, ha! Multitasking was a lifestyle! And here I was in a new place and my kids were starting school and I had no job, so it was a no-brainer to keep doing henna here. Except that there isn't the same knowledge of Indian culture and henna where I live in Southern Ontario so I had to build my business up completely differently than I had in England. While taking care of my family, and, of course, finding regular paying work. Because why not, right?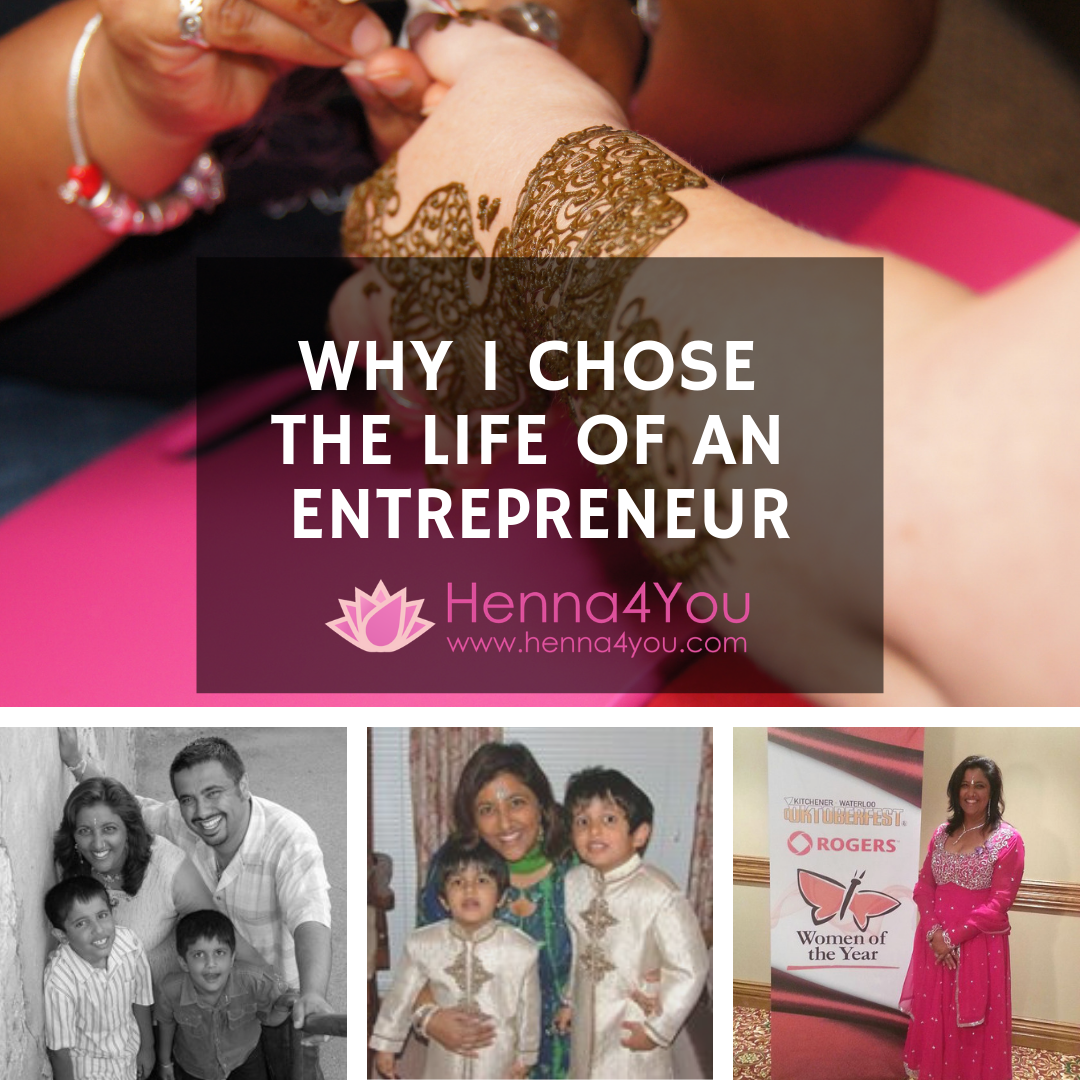 It's really thrilling for me to see that we're in a time where that's the truth: why not? For so long women had to choose a career or a family. Choosing to be self-employed AND having a family was just nuts. AND no longer are you shamed for choosing just a career. We're in a time where it's okay to bite back if someone accuses us of not having a family, of dedicating our time to our passion.
That being said, there are still prices to pay, and I find that as a woman I still run into thought processes that I don't see in my male counterparts (but if you gentlemen do run into these things, let's chat next time you're by!). The first is feeling guilt about dividing our time between family – even if you don't have kids, you have other family commitments – and your business. The truth is that dividing your time between family and other commitments, work included, is true for everyone, but we're the ones who feel guilt! And we need to stop. Everyone deserves the opportunity to live our dreams, to enjoy our careers. Let me tell you as the mother of 2 teenagers that it's good for them to learn to do things like cook and make their own lunches anyway! We will not be there to tie their shoes for them always, independence for the whole family is healthy. So if they have to take a turn making meals a couple of times a week in between all the hockey practices and dance, then that's good for everyone and it is not you being irresponsible.
I think that we women also allow the world, and perhaps ourselves, to consider our entrepreneurship as something we do in our spare time. Like we could just put our career dreams on hold to handle something else. Even when we're working other jobs to pay the bills, we are still fully committed to the businesses we started, and it's important to acknowledge that and not to allow anyone to belittle that fact. Be proud of your work, even if you never intend to do it full time! You work really hard, and that's a wonderful thing.
Be proud of yourself, and allow yourself to feel good, even if you aren't at home for every single homework session, even if you have to stay up until midnight sometimes doing the books. Make sure that you are taking care of you, that you're living your best life, and the compromises you have to make – and trust me everyone has to make them – won't seem like a step back but a step forward because you are making your dreams come true! Over my many years in business, I have encountered countless women who started their own business or are in the process of doing so and it's a joy to chat you ladies up whenever you sit down for some henna!
Need some easy entertainment at your next birthday party? A wonderful experience for kids and adults of all ages! Call Henna4You at (519) 741 7007 to book.