Welcome, fellow gratitude enthusiasts and henna lovers, to a unique journey where we blend tradition with Bhupi-ness! Today, we're diving deep into the magical world of henna and exploring how this ancient art form can become your expressive companion in the fabulous realm of gratitude. Grab your henna cones, put on your sassy pants, and let's embark on an adventure of thankfulness like no other.
Chapter 1: Henna Unveiled - More Than Just a Pretty Stain
Before we get our gratitude groove on, let's talk henna basics. Henna, also known as mehndi, is not just about pretty patterns on your skin; it's a rich tapestry of tradition and culture. It hails from various parts of the world, from the intricate designs of India to the mesmerizing swirls of North Africa.
But why is it relevant to gratitude? Well, henna isn't just about aesthetics. The process of applying henna is often a slow, deliberate, and meditative practice, much like expressing gratitude itself. As you sit still and let the artist work their magic, you can't help but reflect on the things you're grateful for.
Chapter 2: The Art of Gratitude - What's the Henna Connection?
Now that we've set the henna stage, let's dive into the art of gratitude. Gratitude isn't just about saying 'thanks.' It's about embodying that appreciation and expressing it in a unique and heartfelt way. Enter henna - the perfect gratitude canvas.
Henna designs are not just random swirls and dots. They often carry deep symbolism. For instance, the peacock feather symbolizes beauty and grace, while the lotus flower represents purity, strength, and rebirth. Using henna, you can create designs that convey the emotions and sentiments behind your gratitude.
Chapter 3: Gratitude Gets Fun - Henna Styles That Pop
Alright, let's inject some fun into our gratitude, shall we? Henna can be as fun and sassy as it is classy. So why stick to traditional designs when you can let your creativity run wild?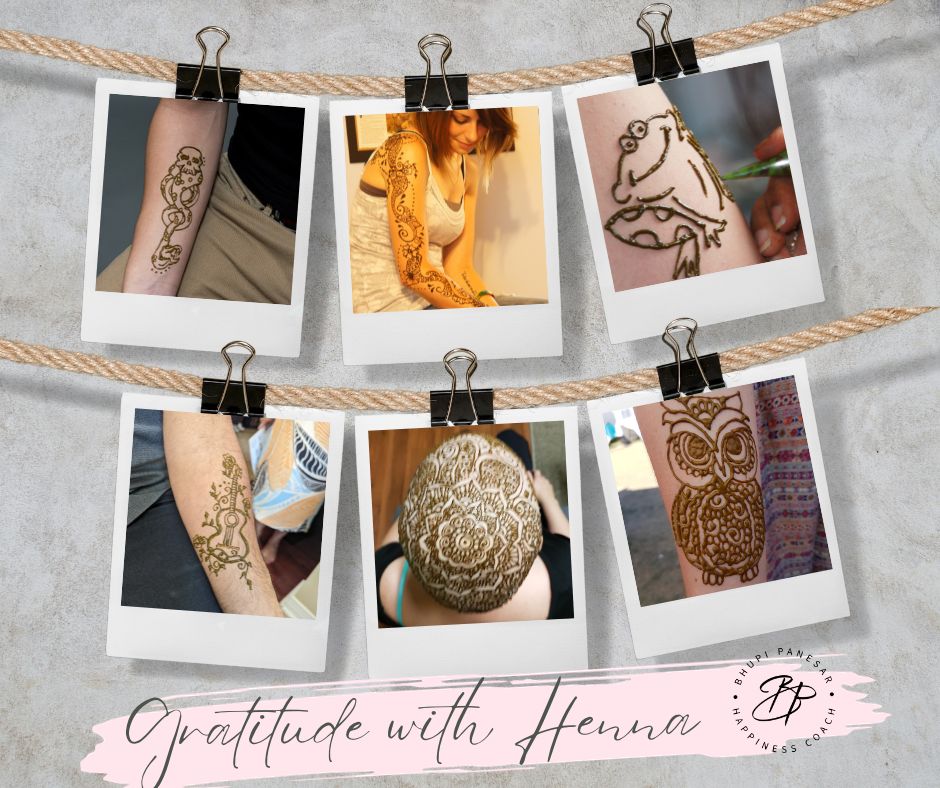 Ever thought of henna-ing a sassy slogan or a cheeky emoji on your skin? Imagine sporting a "Grateful AF" or a "Thanks, Universe" design at your next gathering. Your hennaed hands will do the talking, and you'll be the life of the party.
And for the rebels out there, why not try something truly out-of-the-box? Henna that resembles a cat meme, anyone? Trust us; it's an instant mood-lifter!
Chapter 4: Gratitude Stories Through Henna
Now, let's sprinkle some real-life sassy gratitude stories that revolve around henna.
Story #1: The Hennaed Wedding
Once upon a time, in a not-so-far-away land, a couple decided to ditch the traditional wedding favours and got henna artists for their guests instead. The guests left the wedding not only with beautiful, hennaed designs but also with a deep sense of gratitude for such a unique and memorable experience. Talk about a wedding to remember!
Story #2: The Thankful Surprise
Picture this: a surprise party where everyone's hands were secretly hennaed with personalized messages of thanks. As the guests slowly discovered their hennaed surprises, the room filled with laughter, fun, and joy.
Chapter 5: DIY Gratitude Henna - Get Your Hands Dirty
Now that we're all fired up to express gratitude with henna, it's time for some hands-on action. DIY gratitude henna is the way to go.
First, gather your henna kit, which includes henna cones, lemon juice, sugar, and some essential oils. Whip up a smooth henna paste, and let it sit for a few hours. While you wait, jot down your gratitude messages and design ideas. We've got you – contact Bhupi to get 100% natural paste! You don't have to worry about the mixing, it will all be ready for you!
Once the paste is ready, start henna-ing away! You don't have to be a pro; even a squiggle can be a symbol of your thankfulness. And remember, it's all about the process and the intention behind it.
Chapter 6: Henna Gratitude Rituals - Beyond the Skin
Finally, let's explore how henna can be integrated into your daily gratitude rituals. It's not just about wearing your gratitude on your skin; it's about infusing it into your life.
Consider creating a gratitude journal with henna-inspired designs. Write down what you're thankful for each day, surrounded by your favourite henna patterns. Or start a gratitude circle with friends, where you henna each other's hands and share what you're grateful for.
As you can imagine, my journal is covered with mandalas and henna designs. Every single time, I read and look through my journal, I always smile!
So there you have it, my fabulous and gratitude-loving friends, the delightful fusion of henna and thankfulness. As you dive into this art form, remember that expressing gratitude is not just about the words you say, but the emotions you convey. And what better way to express those emotions than with a dash of henna?
So go ahead, let your hands tell your gratitude story. Get thankful, and let the world see your gratitude shine through the art of henna. It's a journey worth taking, and who knows, you might just inspire a henna gratitude revolution!
Happy hennaing and keep being fabulously grateful! 🌟
To order your 100% natural and organic henna cones, contact Bhupi today!