A few months ago, I had the privilege of being interviewed by a university student about the intricate connection between mental health and mandalas. This student, who prefers to remain anonymous, shared a remarkable journey that warmed my heart. Many years ago, when she was a high school student, she took part in one of my workshops. Her love for mandalas was evident even then, as she expressed her desire to celebrate her birthday with her family and friends by drawing these beautiful creations. Now, as she nears the completion of her degree and prepares to graduate as a psychotherapist, I am overflowing with pride for the amazing, kind, compassionate and wonderful woman she has become. I've had the privilege of watching her transition from a teen into an exceptional woman dedicated to helping others. Her anonymity doesn't diminish the brilliance of her story; it only adds to the wonder of her transformative journey. Read on….
Allow me to introduce you to Bhupi, a henna maestro with over three decades of experience. She's the heart and soul behind Henna4You, renowned for its use of natural ingredients. But here's the exciting twist: Bhupi is not just a henna artist. She also teaches through her Mandala Workshops. This unique combination allows her to offer invaluable insights into how drawing mandalas promotes mindful breathing, unwavering focus, and nurtures our mental well-being.
Chapter 1: Unveiling Bhupi's Journey
Bhupi, the enchantress of henna, has been swirling her magic on hands for more than 30 years. Her journey began long before henna was a popular trend; she had a deep-seated passion for this ancient art form. Over the years, her expertise has transformed her into a henna virtuoso, embracing natural ingredients to create intricate designs that symbolize beauty, creativity, and a touch of tradition.
Chapter 2: The Magic of Henna4You
As you're well aware, Henna4You is a name synonymous with excellence in henna artistry. The secret behind Bhupi's enchanting henna creations lies in her commitment to using natural ingredients. Her henna doesn't just adorn the skin; it's a symbol of purity and love. But Bhupi's magic doesn't stop at henna alone; it branches out into the captivating world of mandalas.
Chapter 3: Bhupi's Mandala Workshops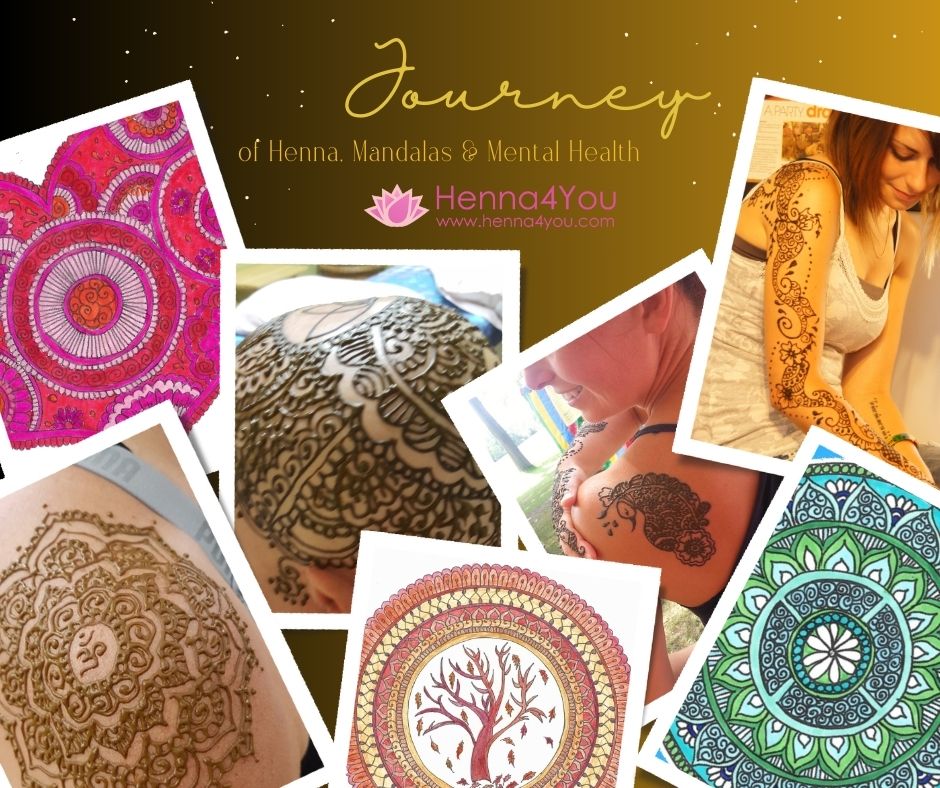 Bhupi's artistic journey doesn't end with henna. She's a passionate teacher who offers Mandala Workshops. In these workshops, Bhupi takes the lead, guiding participants on an enchanting journey into the world of mandalas. Through her teachings, she imparts her deep understanding of how drawing mandalas can be a beacon of light on the path to mental well-being.
Chapter 4: Mandalas and Mental Health
Drawing mandalas, Bhupi believes, is a transformative practice that can foster mental clarity, emotional stability, and a sense of inner peace. She knows firsthand how mandalas lead to mindful breathing, enhance focus, and help individuals navigate the labyrinth of their emotions.
Bhupi's Mandala Workshops offer participants a sanctuary to explore their inner selves. In these workshops, people discover that mandalas are not just pretty patterns; they are windows into the soul. Each stroke and curve on the canvas is an opportunity to pause, breathe, and reflect.
Chapter 5: The Harmonious Connection
The synergy between henna and mandalas in Bhupi's world is remarkable. Applying henna in the form of a mandala is not just about adornment; it's about declaring one's inner peace and creativity. The artistic process becomes a reflection of the mental and emotional journey within.
Through the fusion of henna and mandalas, Bhupi encourages participants to engage in self-love, creative expression, and mindfulness. It's a magical combination that lets individuals declare their authenticity with each stroke of the henna cone.
Chapter 6: Practical Wisdom from Bhupi
For those eager to put this wisdom into practice, here's what Bhupi recommends:
Step 1
Join one of Bhupi's Mandala Workshops. It's a unique opportunity to learn from the henna guru herself and explore the profound connection between mandalas and mental health.
Step 2
Embrace Bhupi's teachings on mindful breathing and unwavering focus. These elements are at the heart of mandala creation and are essential for nurturing your mental well-being.
Step 3
Discover the transformative power of drawing mandalas as you immerse yourself in this meditative art form.
Step 4
Experience the soothing and therapeutic impact of Bhupi's natural henna as it becomes part of your mandala journey.
Chapter 7: Conclusion - Bhupi's 'Ink and Inner Peace'
In this remarkable journey with Bhupi, we've uncovered how henna, mandalas, and mental health intersect in the most mesmerizing ways. Her three-decade legacy in the world of henna, coupled with her Mandala Workshops, is an extraordinary combination of art, tradition, and well-being.
Bhupi's story teaches us that self-care isn't just about trendy practices; it's about discovering our unique path to inner peace. Henna and mandalas, under Bhupi's guidance, provide a powerful gateway to mindfulness, self-acceptance, and personal transformation. It's an ink-stained journey that brings beauty to our lives and tranquility to our souls. As Bhupi says, "Ink and inner peace are intertwined; embrace them both, and you'll unveil the masterpiece that is 'you.'
Chapter 8: An Invitation to Transform
As we conclude this enchanting journey with Bhupi, we extend a warm invitation to you. Book Bhupi today for your very own mandala experience. Step into the world of henna and mandalas with a master who understands the art, the tradition, and the profound impact on your mental well-being. Bhupi's Mandala Workshops are not just an artistic adventure; they're a transformative journey into the heart of mindfulness, self-expression, and self-love. Don't miss this opportunity to embrace the ink and inner peace, one beautiful mandala at a time.