Life, as they say, is a rollercoaster of emotions. We're constantly evolving, and so are our traditions. Just like the wind carries away the old leaves to make room for new growth, sometimes we need to let go of old customs that no longer resonate with us, and other times, we find ourselves embracing traditions we never thought we would. Karva Chauth, a festival celebrated by Hindu and Sikh women in Northern and Western India, is a prime example of how traditions can become a part of our lives, only to be rediscovered and redefined.
If you've been a keen observer of Karva Chauth, you know it's more than just a fast; it's a celebration of love, community, and of course, the epic competition of who can get the darkest henna. Let's dive into the deep sea of this festival, a tale of fasting, henna-stained hands, and self-pampering with a touch of sassiness.
The Essence of Karva Chauth
Karva Chauth isn't your average get-together. It's a festival that happens once a year, bringing together married and unmarried women. The date? Well, it varies, following the Hindu lunar calendar and typically falls in October or November. Women fast from sunrise to moonrise, and not just for the heck of it. No, they're doing it for the safety and longevity of their husbands. If that's not devotion, I don't know what is!
The Glamorous Prelude
Now, before the fasting and moon-gazing commence, there's a whole day of preparation that could put a red-carpet event to shame. The night before Karva Chauth, women gather and embark on a mission to pamper themselves silly. Trust me; if there was an award for the most self-indulgent day of the year, this would be it. Think facials, spa treatments, and even that cheesy rom com you've been avoiding all year.
And, of course, the pièce de résistance of the pre-Karva Chauth extravaganza: henna. It's not just any henna; it's bridal-level henna. We're talking intricate, breathtaking designs that transform your hands into works of art. If you're not participating in the "whose henna is the darkest" competition, are you even doing Karva Chauth right?
Henna, the Ultimate Game-Changer
Henna has been the secret weapon of countless women for centuries. This beautiful, temporary art form has been a symbol of celebration, beauty, and creativity. But when it comes to Karva Chauth, henna takes on a whole new level of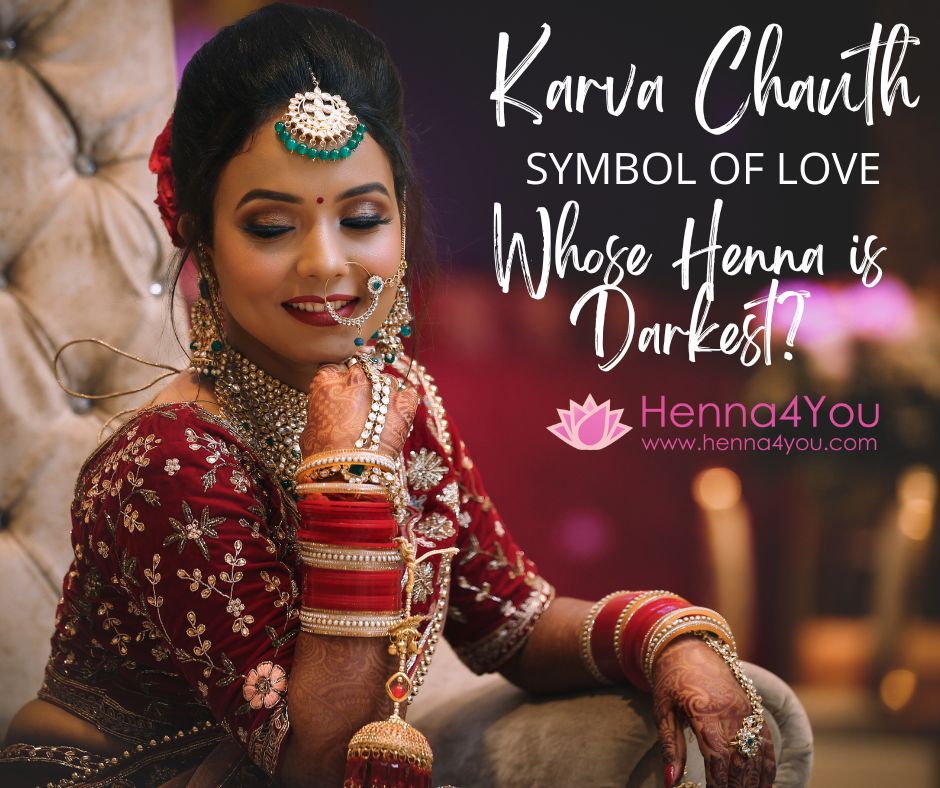 importance. It's not just about the aesthetic appeal; it's a statement. It's a way of saying, "I'm all in, and my hands are proof of my commitment."
As the women gather for their pre-fasting celebrations, they sit down to get their henna applied. It's like a rite of passage. The designs range from traditional to contemporary, but one thing is certain – they are intricate, beautiful, and done with precision. Henna artists become the heroes of the day, with everyone trying to snag an appointment with the most skilled one.
The Karva Chauth Showcase
Now, as the day progresses, the challenge is set. Whose henna is the darkest? It's not a competition for the faint of heart. It's a battle of patience, a contest of who can keep their hands steady for the longest. The darker the henna, the deeper the love, right? Or at least that's what they say.
While you may think the tradition of showing off your henna sounds a bit superficial, it's actually quite endearing. It's a celebration of the artistic and creative side of women. It's a moment to express their individuality through an art form that has been passed down through generations.
The Moonlit Drama
Now, let's talk about the main event – the fasting and the moon. On Karva Chauth day, women wake up before the crack of dawn. Why? Because all the food must be cooked fresh. Yes, you heard it right; there's no room for leftovers on this day. It's all about purity and intention.
As the sun sets, the women get together, looking like a sea of colorful sarees and beautifully stained henna hands. They carry a thali adorned with all the bridal essentials and a diya to the temple. The atmosphere is electric, filled with camaraderie and excitement. The temple is their pitstop, their sanctuary before they move on to the ultimate goal – the moon.
The moment of truth arrives when the moon peeks through the night sky. But they don't just gaze at it like any ordinary night. Oh no, there's a sieve involved. The moon is viewed through a sieve, and this is when the magic happens.
The Moonlit Connection
Now, here's the part that tugs at your heartstrings. The fast isn't broken in solitude; it's an intimate ceremony with their partners. For married women, this is the time to share a moment with their husbands. The bond is renewed, the love reaffirmed, and for some, it's almost like a mini wedding ceremony each year.
For unmarried women, this part of the tradition may not apply, but they still find joy in the camaraderie of their friends and the beauty of the moonlit night.
Reflecting on the Past
As I found myself drawn back into the world of Karva Chauth, memories of my past relationship resurfaced. I couldn't help but shed a few tears. The truth is, life is a wild ride, and we don't always get to steer the way we want. Sometimes our hearts and emotions are like two unruly kids in a candy store, pulling us in opposite directions.
But you know what? That's what makes traditions like Karva Chauth so special. They have a unique way of reminding us of our past, even when we've moved on to a brighter, better future. They bring back memories, both happy and sad, and they show us how far we've come.
Henna: An Age-Old Companion
Henna isn't just a part of Karva Chauth; it's a companion for all seasons and reasons. This age-old tradition of adorning hands with henna has been a symbol of love, beauty, and creativity for centuries. It's a language of its own, telling stories and expressing emotions without words.
So, why not embrace the change with henna? It's not just a part of traditions; it's a part of life. Whether you're celebrating Karva Chauth, a wedding, or simply a casual get-together, henna is your canvas to express yourself.
In a world that's constantly changing, traditions like Karva Chauth remind us to hold onto the things that matter most – love, connection, and the occasional friendly competition over whose henna is the darkest. So, whether you're a traditionalist or someone who's rekindling old customs, remember that henna is here to stay, to remind us of our past and embrace the future.
Let's chat about booking that party for no special reason!