Today, we're diving into the world of self-investment and the art of henna with none other than the fabulous Bhupi from Henna4you. So, grab a chai latte, sit back, and let's embark on a journey that promises to make you glow both inside and out!
Investing in Yourself: The Ultimate Power Move
In a world filled with stocks, bonds, and cryptocurrencies, there's one investment that outshines them all—you! Yes, it's high time you started pouring some of that hard-earned moolah into the most valuable asset you own: yourself. And what better way to do that than by exploring the enchanting world of henna artistry?
Meet Bhupi from Henna4you: Your Artistic Guru:
Picture this: a room filled with the tantalizing scent of henna, intricate designs adorning the walls, and at the center of it all, the enchanting Bhupi. This henna goddess is not just an artist; she's a magician who transforms the canvas of your skin into a masterpiece. But hold on, there's more to Bhupi than just her artistic prowess; she's your guide on this journey of self-discovery.
Why Henna? Because Basic is Boring:
Investing in yourself doesn't mean settling for the ordinary. No, it's about embracing the extraordinary, and what's more extraordinary than henna? It's not just about doodling on your hand; it's a form of self-expression that goes beyond the surface. Whether you're aching for a chic wrist design or dreaming of a mesmerizing full-arm masterpiece, henna has got you covered.
Henna as a Form of Meditation:
Now, let's talk about the zen-like vibes that come with practicing the art of henna. As you delicately guide the henna cone across your skin, you're not just creating art; you're entering a state of mindfulness. It's like a mini-vacation for your mind, sans the hefty travel expenses. Who needs a spa day when you can have a henna day, right?
Becoming a Henna Diva 101: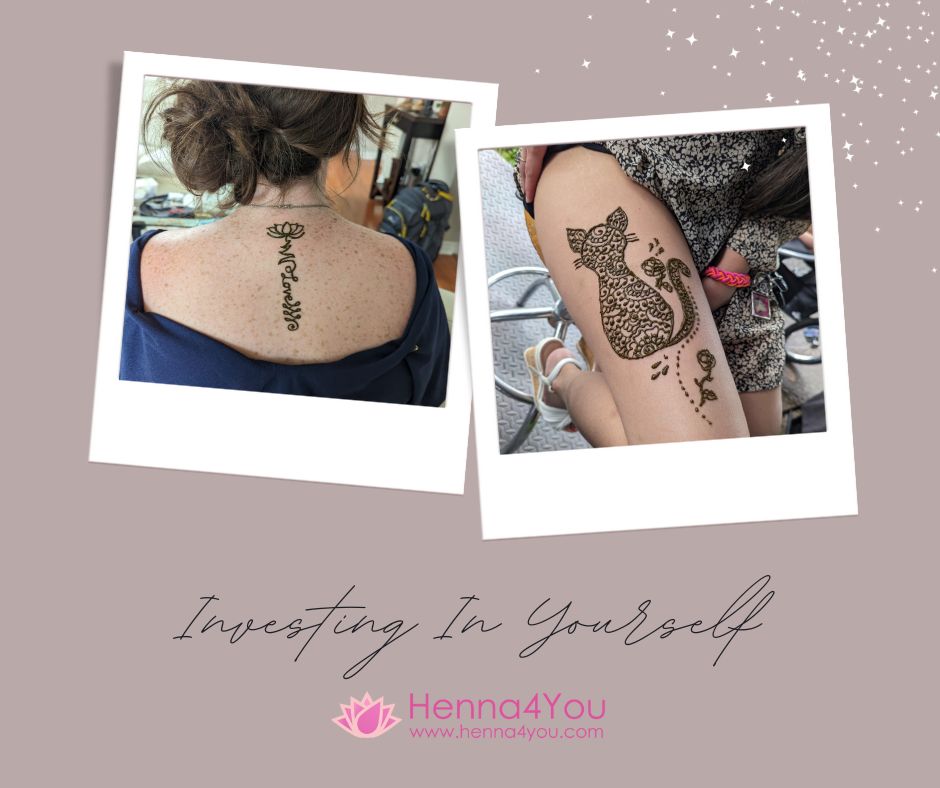 So, you've decided to take the plunge and become a henna artist? Bravo, my friend! Bhupi is here to guide you through the intricacies of this ancient art. From the basics of mixing the perfect henna paste to mastering the art of steady hands, Bhupi's got the insider tips that will turn you into a henna diva in no time. Say goodbye to stick-figure doodles; you're about to unleash your inner henna goddess!
Contact her to learn about becoming a Henna Diva!
Henna for Every Occasion:
Now, let's talk versatility. Henna isn't just for lazy Sundays; it's a game-changer for any occasion. Weddings, birthdays, brunch with the squad—there's a henna design for every moment. Imagine being the life of the party with your intricate henna sleeves stealing the show. Move over, dance floor; there's a new star in town, and it's wearing henna.
Adorned by Bhupi: The Ultimate Self-Love Ritual:
For those who prefer to be the canvas rather than the artist, fear not! Bhupi offers a transformative experience that goes beyond skin-deep. Being adorned by Bhupi isn't just about the henna; it's a ritual of self-love and acceptance. As she works her magic, you'll find yourself not just adorned in henna but draped in confidence and beauty.
The Power of Adornment:
Ever wondered why queens wore elaborate crowns and warriors adorned themselves with symbols of strength? It's because there's power in adornment. Henna isn't just a pretty design; it's a declaration to the world that you are a force to be reckoned with. Whether you're conquering the boardroom or dancing in your living room, that henna design is your secret weapon, your armour of self-love.
Henna4you: Where Magic Happens:
So, where does this magical journey begin? Right at the doorstep of Henna4you, where Bhupi is ready to welcome you with open arms (literally, for the henna application). It's not just her home; it's a haven for self-discovery and artistic exploration. From the moment you step in, you're not just a client; you're a part of the Henna4you family.
Conclusion:
Investing in yourself doesn't have to be a dull affair of spreadsheets and budgeting apps. It can be a vibrant, artistic, and downright sassy journey, and henna is your ticket to that world. So, take a leap, embrace the henna diva within you, and let Bhupi guide you on this fabulous adventure of self-love, expression, and pure, unadulterated sass!
There you have it! A sassy and fun-filled exploration of self-investment through the enchanting world of henna with Henna4you. Now, go forth and let your inner henna diva shine!
Contact Bhupi to book an appointment or party!